In ABC ROTOMOLDEO, we accord importance to the quality in our process and our products beyond any other consideration and this is why, starting many years ago, we are working under the Lean Manufacturing precepts o we can detect, implement and consolidate improvements and it is one of the factors that makes us move on and keep improving.
Thanks to Lean Manufacturing we achieved a better use of our resources, optimize our production times and stablish a quality control that lead us to introduce some other new features such as our ECO and recycled raw materials offer, the incorporation of new technologies for the quality department, the growth of our production facilities or the launch of many new products.
After many years working under Lean Manufacturing methodology and with the commitment of our team, we have been rewarded with the reconnaissance of our efforts, being the first and yet only Spanish rotomoulding company certified by AENOR in the "Application and implantation of the Lean Manufacturing methodology and Six Sigma" according the international ISO 18404; this certification is the testimony and guaranty of our ambitious policy of being one step ahead in technology, quality and customer service.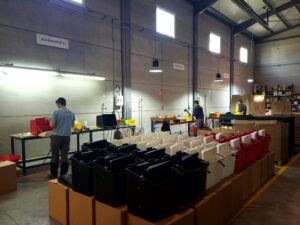 But, as this working philosophy has taught us, this is not the end of our work, it is a continuous work and we know that there is still much work to be done to grow better and we are aware that we can provide better services. This is why we have already fixed our new objectives to maintain us at the front of the Spanish and European plastic industry and remain as the model to look at for the rest of the industrials in our sector.
We want to keep advancing to a sustainable and efficient future and we hope to achieve it with the trust of our customers.
ABC ROTOMOLDEO
Por un futuro mejor / For a better future / Pour un future meilleur / Für eine besserer Zukunft / Per un futuro meglior
Download our ISO 18404 certificate here: https://www.abcrotomoldeo.com/wp-content/uploads/2021/03/LSS-2021-0002-ABC-ROTOMOLDEO-INDUSTRIAL.pdf
Related news (Spanish): https://www.linkedin.com/feed/update/urn:li:activity:6777931571816087553